MBA in Innovation and Entrepreneurship, 2021
Going for Gold Inside and Outside of the Classroom
The rigors of being a graduate student are very real. From late study nights, weekend research, and early classes, graduate students make countless sacrifices every day, but it's all worth it because their research will help change the world for the better. Earning a graduate degree is truly the pinnacle of academia. In the athletics world, similarly, there may not be a bigger honor than representing your country in the Olympics. It's almost every athlete's dream, to proudly wear their country's flag while competing against the best in the world. For UCI's Tara Prentice, both these scenarios are her reality.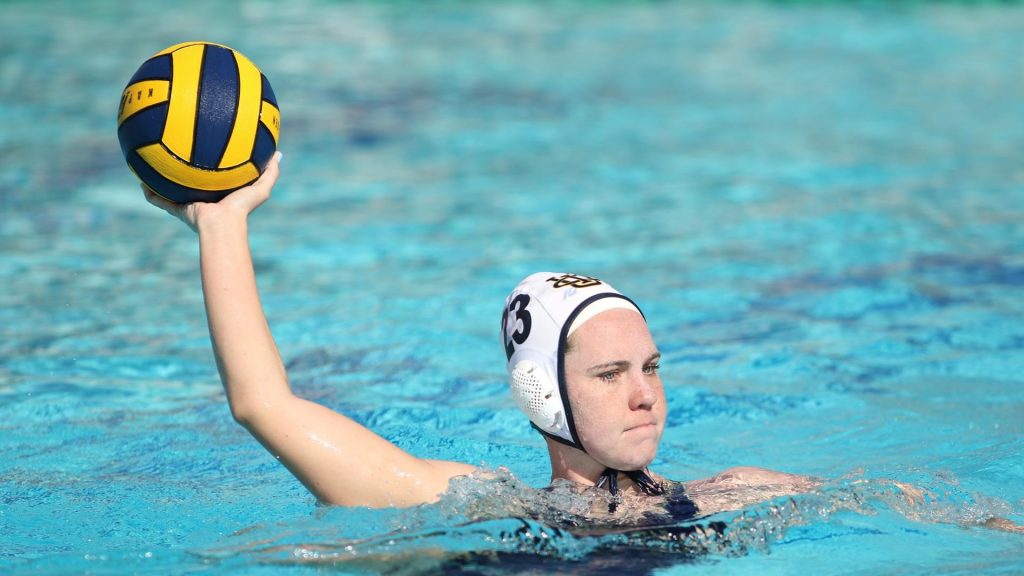 Incredibly, she's set to graduate with her MBA in Innovation and Entrepreneurship in June, while she's also a member of UCI's Water Polo team and is a finalist to qualify for Team USA's Water Polo team in time to compete in the 2021 Summer Olympics in Tokyo in July.
I'm actually not sure how I do it sometimes," says Tara. "Honestly, it's such a team effort though. I have so much support from my teammates, coaches, advisors, and family. I couldn't do what I do without them. My coaches actually believe in me more than I do."
Overachieving is nothing new for Tara. As an undergraduate she double majored and earned her degrees in political science and criminology, law, and society from UCI in 2020. She was nominated for the 2020 NCAA Woman of the Year award, which is one of the most prestigious awards any student-athlete can earn in collegiate athletics. It honors NCAA student-athletes who succeed in the classroom, in the arena of play, and are active in giving back to their community.
"Tara has been uplifting the UC Irvine community in all of these areas since she set foot on our campus," says UCI Water Polo head coach Dan Klatt. "What I am most proud of when I think of Tara is that her pursuit of personal excellence doesn't affect her ability to give time and love to her teammates, her friends, her family, her classmates, and her school. Tara has energy for everyone, and she pulls people up to the top of the mountain to enjoy their own personal successes alongside her. She has invested energy and made transformative personal adjustments to become an effective leader, and everyone around her are the beneficiaries."
For Tara though, the support from her current coaching staff is not only a big reason why she's an Anteater, but it's also a primary reason she has a chance to represent UCI and the United States in the Olympics.
Associate UCI Water Polo coach Andrew Rowe knows Tara from her youth water polo days and was the one who convinced her to transfer to UCI from UCLA after her freshman year in 2017.
"I spent my freshman year at UCLA and it was and still is a great school, but it wasn't for me," Tara recalls. "It was actually Andrew (Rowe) who sold me on the idea of [transferring to] UCI. Not only did he take interest in my athletic talents, but he knows my academics were important to me and valued those even more than I could. UCI's law school and criminology programs are some of the best in the country, so that's what really sold me."
But it wasn't just coach Rowe who supported her, head coach Klatt believed in her so much that he was actually the one to offer her a spot on USA Water Polo. In addition to being one of the top coaches in the nation, compiling a 326-165 record in 17 seasons, while even lifting the Anteaters to the No. 3 ranking in the nation last year, he also serves as the Senior Assistant Coach for USA Water Polo.
One day, coach Klatt asked Tara is she'd like to join him as another fellow Anteater on the national team.
 "I couldn't believe it," says a beaming Tara. "I remember he just asked if I'd like to be a part of the team, and of course I said yes. I even went as far as to tell him I was thinking about sitting out this season for UCI so that I could focus on qualifying for the Olympic team. He couldn't have been more supportive."
Tara will find out in early June if she'll be making the trip to Tokyo. She's one of 18 finalists and 13 will make the Olympic roster. Not bad for someone who didn't even start playing the game until she was 14.
"A lot of people don't know this, but I actually didn't start playing water polo until I was 14," Tara recalls. "In fact, I was a swimmer up until that point and I just got bored of it, so I tried water polo on a whim. I didn't even know how to hold the ball correctly at first."
No matter how long Tara's water polo career lasts, she has set herself up for success no matter what route she decides to take. Even as she prepares to earn her third degree from UCI later this month, she already has her sights on another one, as she looks to potentially attend UCI's Law School in the near future.
"Intellectual property law is something that is really interesting to me," says Tara. " I really like that side of law, so I want to go to law school here at UCI and then eventually go work for a sports.
Whether it's through academics, athletics, business or all of the above, one thing is for certain – Tara's impact on the world will be a big one, and we can't wait to see how it turns out.