Fellowship Mentors Consultation Program
The Graduate and Postdoctoral Scholars Resource Center (GPSRC) offers fellowship mentorship support to graduate students applying to the NSF Graduate Research Fellowship Program (GRFP). All Fellowship Mentors have received awards and/or honorable mentions for at least one of these fellowships, and are trained to mentor you through the process of creating your own stellar application in a supportive environment. We also present a Roadmap for crafting high-stakes applications that takes you from pre-writing to polished statements, which we encourage you to use and adapt as you chart your path towards success.
Crafting a competitive application will be a team effort between you and your mentors. We offer two services to support you (and your mentors) – a
Fellowship Application Roadmap
and one-on-one
Consultations
.
The roadmap will help you develop a game plan to navigate your pre-writing and writing milestones that will lead to a benchmark application! We also offer one-on-one consultations with trained Fellowship Mentors so you can get individualized support on your pre-writing and writing process. Book your first consultation with a Fellowship Mentor early for the most effective and enjoyable application experience.
Use this roadmap to chart your route to a successful fellowship application! This roadmap is developed by the Mentorship Alliance and based on the NSF GRFP Primer written by Dr. William Head, who has served as a reviewer for the NSF GRFP Fellowship program and has mentored many students through a successful fellowship application process. The goal of this roadmap is to empower you to find your own way through the application process by offering you engaging modules for each milestone along the way.
Below is an example roadmap schematic that includes many of the pre-writing milestones we encourage you to work through. All of the milestones and strategies in this example roadmap are explained in detail as you work through the "Roadmap for Crafting High-Stakes Fellowship Applications."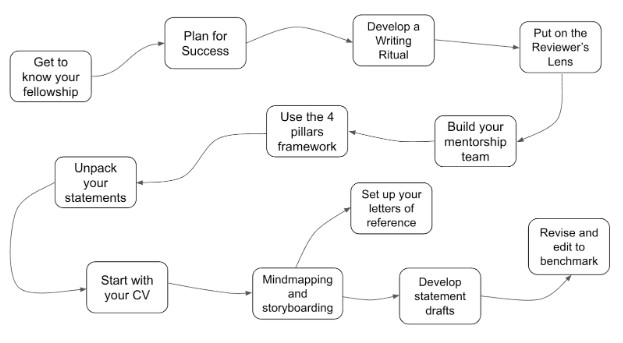 Fellowship Mentors are trained to help you at any stage of your application! There are two general stages of the application process: the pre-writing stage, and the statement draft stage. 
Pre-writing Support:
Not sure how to start? Struggling to put your ideas on paper? Fellowship Mentors are trained to guide you through a variety of pre-writing methods to get the ball rolling and your ideas flowing. With our pre-writing framework you'll develop a writing ritual and, working with your CV, mindmaps, and storyboards you'll construct the framework of your statements that meet the merit review criteria at a benchmark level and that wow the fellowship reviewers!
Statement Draft Support:
Work with the Fellowship Mentors to design your statement structure, develop your key statements, hone your narrative, and polish your statements. Bring an early draft or a more polished version of your personal statement or your research statement to the consultation. Mentors are trained to work with you regardless of your research discipline. 
Is This Process Worth It?
If your goal is to create a benchmark fellowship application, working through the Fellowship Application Modules while meeting consistently with Fellowship Mentors will get you there! 
The Fellowship Application Modules introduce you to concepts and techniques important for fellowship writing so that you have the power to develop, revise, and polish your application statements. As you work through the Modules, you'll draw your fellowship application roadmap, set application milestones, and establish a game plan. You'll learn about fellowship review criteria, develop a routine for a successful application process, utilize the 4 Pillars framework as you craft mindmaps, storyboards, and statement drafts, and put on the reviewer's lens as you revise and edit your statements to a benchmark level. This is a challenging process but it can guide you to a successful application and will prepare you for future fellowship, scholarship, and grant applications. 
To support you along your application journey, Fellowship Mentors will help you get to know the fellowship through the lens of the reviewer and will hold you accountable to your application roadmap. Through one-on-one consultations, they'll help you understand how reviewers use the merit review criteria to appraise applications. Mentors will guide you through the different writing stages that include pre-writing, drafting, revising, editing, polishing, and submitting! Working with Fellowship Mentors, you'll set up your writing ritual and create a cadence of commitment and accountability.
Prepare For Your Consultations
Prepare for your consultation to maximize your time with the mentors!
Expect to meet one-on-one with a Fellowship Mentor for 50 minutes on Zoom.
Be specific about your needs. When booking your consultation, indicate if you are seeking Pre-Writing Support or Statement Draft Support and whether you want to focus on the personal statement, the research plan, or another aspect of the application.
If this is your first pre-writing consultation, bring an updated CV. 
After booking send your mentor the materials you will be reviewing a minimum of 24 hours in advance. (You will receive a CampusGroup email after booking with your mentors email address as well as a calendar invite and zoom link)
Write down your questions ahead of time and include specific questions when you book your consultation.
Review the eligibility criteria for the fellowship that you are applying for to make sure you are eligible. If you have specific questions about eligibility that you can't find the answer to, ask a Fellowship Mentor during your consultation.
Review the Roadmap and identify where you are in the process. Are there any steps you can take before your consultation?
Be prepared to screen share your materials. Test your camera and audio prior to your appointment. 
Be prepared to read your writing out loud. This will feel strange. However, it is an effective method that helps writers hear the problems they can't see and will significantly improve your writing. 
Be receptive to feedback. Fellowship Mentors are trained to listen, ask questions, and provide feedback to help you strengthen your application materials in a supportive setting.
Please provide a 24 hour notice to the fellowship mentor if you must reschedule the consultation.
Fellowship Mentors are available to work with you wherever you are in the process. Don't wait to start the application process – book your consultation today
All mentors are trained to assist in all fields! Mentoring spots are limited. If one mentor is fully booked or their times do not work with you, please select another mentor even if they are not in your field.
Meet The Mentorship Alliance
Fellowship Mentors are trained by the Mentorship Alliance. The Mentorship Alliance works within and among partnering institutions to build sustainable, equitable, evidence-based, and high-impact mentorship capacity to serve graduate and undergraduate students. The Mentorship Alliance is composed of graduate and undergraduate students across various disciplines at nine universities: UC Irvine, UC Santa Cruz, Oregon State University, University of Hawai'i at Mānoa, Yale University, Stanford University, University of Southern California, San Jose State University, and Cal State University at Monterey Bay. If you'd like to learn more about the Mentorship Alliance, please email our UCI Representative, Maya Silverman, at msilver2@uci.edu.