PhD in Nursing Science Alum, 2021
Recent PhD Graduate and Commencement Speaker Danisha Jenkins is Just Getting Started
Danisha Jenkins recently graduated from UCI with her PhD in Nursing Science. Throughout her graduate journey, Jenkins embodied remarkable integrity, resilience, and leadership both inside and outside of the classroom. She has worked tirelessly to break down barriers, fight for social justice, and use her experiences to improve the world for others.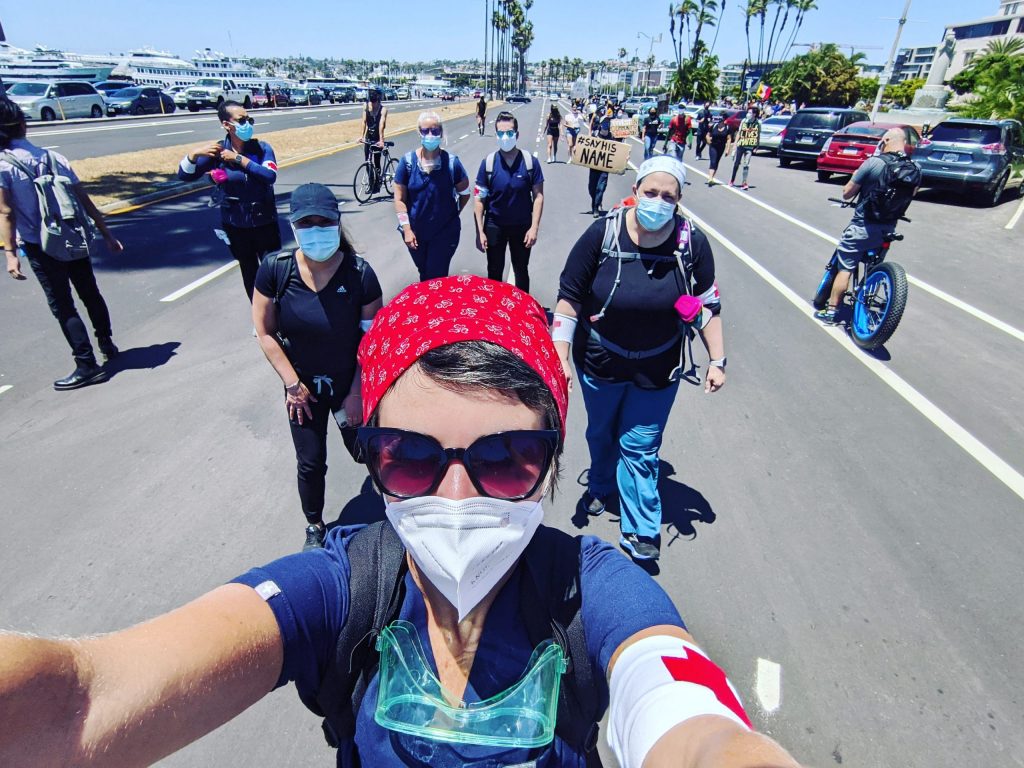 While pursuing her PhD, she worked as the Director of Critical Care and Emergency Services at a hospital that was intensely affected by COVID-19 and has been on the frontlines of the pandemic since it began in 2020. She was also at the forefront of the protests following the death of George Floyd and traveled to San Diego County to provide supplies and first aid support to activists. Amidst her work, research, and activism, Jenkins has been raising her three lovely children.
Jenkins was selected to be the 2021 Commencement Speaker and has received several prestigious awards including the 2021 President's Award for Health, Equity, and Social Justice, 2021 Community CORE Award, 2020 Public Impact Fellowship, and the Nurse Leader of the Year Award.
What does Jenkins plan to accomplish post-graduation?
"My post-graduation plans are still a deep point of reflection right now. I worked full time throughout my PhD and have been working for over 10 years in acute leadership as a nurse," says Jenkins. "The idea of leaving the environment I have been so entrenched in for so long is both exhilarating and exciting. I love the adrenaline of critical care, the split-second decisions, and the endless opportunities to rise to the occasion. I also deeply love my team and enjoy collaborating with nurses and physicians every day."
For Jenkins, going through the pandemic solidified that passion. Working to change the system from within is powerful and possible in some ways, but the change is also quite slow. She plans to transition to education and research full time in the future and continue to make an impact.
In the meantime, Jenkins is taking advantage of the opportunity to work with her faculty chair, Dr. Candace Burton on a special project and various publications. She will also continue her work with the American Nurses Association, as a board member for the Center for Ethics and Human Rights.
"My experience at UCI changed my life and influenced me in immeasurable ways," recalls Jenkins. "It let me know that I'm not alone, and that I have a lot to look forward to in terms of collaboration."
Jenkins also provided some advice for prospective graduate students.
"As the primary income earner for my household and a mother of three children, people had concerns and doubts about my ability to complete a graduate degree," she says. "My advice is to not let other people's capacity dictate your capacity. Of course, pursuing a PhD was not easy. There were many all-nighters, many times where I felt inadequate, but it was not impossible. To me, it was worth it. If this is your dream, you can make it happen. Don't let other people tell you that you can't."